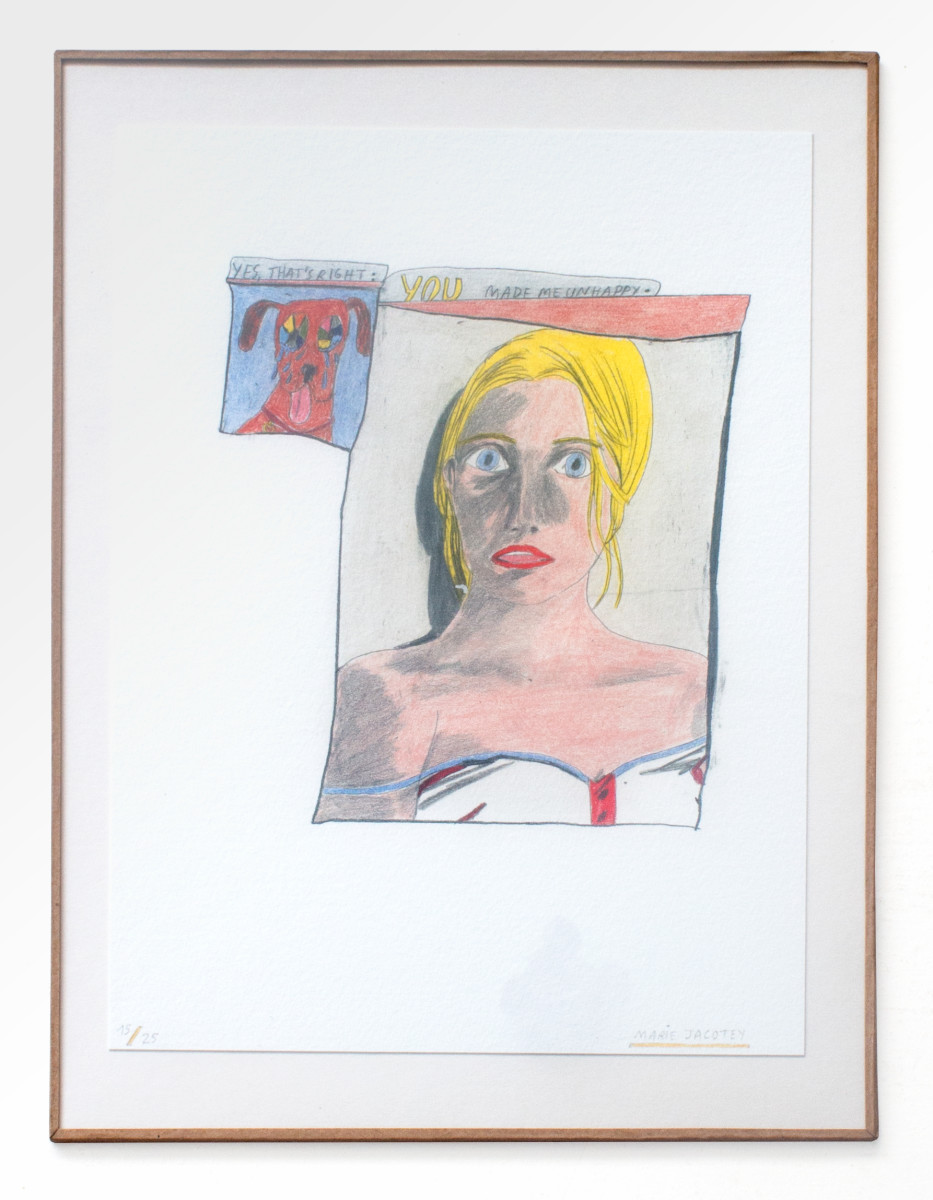 Marie Jacotey
limited edition: You, 2015
Digital pigment print
Each hand framed, signed and numbered by the artist
Printed on Hahnemuehle German Etching, 310gsm
Paper size 21 x 28.1 cm
Edition of 25 plus 3 APs
Marie Jacotey is equal parts storyteller and artist.
Her subject matter is firmly rooted in the personal, oftentimes placing the viewer in the position of voyeur as emotionally-charged narratives play out in private moments and fraught exchanges. This is one of two editions produced as a preview of a new artist book by Marie Jacotey, who has worked closely with design duo Stinsensqueeze to develop a unique binding, which allows the reader total freedom in how they approach the work. The book is made up of individual artworks, loosely folded and gathered into two sections, each corresponding to the perspective of two protagonists in a failed love story. Part introspection, part emotional exchange, the visual correspondence can be read in multiple ways: in series as part of a continuous narrative, individually as unique artworks, or even placed as a large-scale installation, to literally 'map out' this tale of passion and loss.
Marie Jacotey (b.1988, France) graduated from National Superior School of Decorative Arts in Paris (ENSAD) in 2011 and from an MA at the Royal College of Arts in London in 2013. Jacotey was chosen as one Bloomberg New Contemporaries in 2014, and had her first solo show (Dolly) in London during that same year. She produced a whole new body of work for her second London solo-show in February 2015, was part of a group show in Belgium at the Tatjana Pieters Gallery last March and was also chosen to exhibit at the Salon de Montrouge in May 2015. She is currently presenting a new piece at Rook and Raven Gallery in a group show alongside Paula Rego, and is currently working on her next solo show in September 2015 at Hannah Barry Gallery, London.
Loading...